I have a rich experience in IT management and change management, with over 20 years in Information technology - both as CIO and as senior professional in SEI CMM Level 5 software companies. I set a record of completing all software projects on time in a CMM level 5 company. (Please see achievements and Client Testimonials ).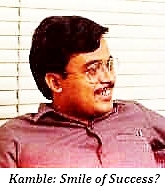 My special interest apart from technology has been the people aspect of IT, i.e., impact of IT on humans, how human nature plays a part in the success or failure of computerization projects I have written about the psychology of change from Industrial era to Information era . With high people orientation, I have been successful in software development projects as well as in IT implementation projects . You can read about the key factors behind the success.
I have discussed strategies to ensure that computers can make an impact on businesses , and strategies for management to concentrate on business rather than on technology
Read more ...
Author
- My Blog on Spirituality & Psychology
This section of my site lists my views on God, about religion and spirituality, and in general on the meaning of life. My book God in Two Minutes, available at Amazon.com, is an eye-opener. The book discusses the possible gaps in our current understanding of God and Religion. Read more ....
I, Prem U Kamble (known to some as P U Kamble) am a Computer Professional and author of articles on God and Religion and on Computer Management.
I am an engineering graduate from Indian Institute of Technology (I.I.T.), and management graduate (with specialization in Systems) from Indian Institute of Management(I.I.M.), the most reputed technology and management institutes respectively in the country. Read more ...
My Articles
God and Religion - A New Look
From Machine Age to Information Era
The Management is Shocked that ...
My successful Computerization
Key Success Factors
Information Technology for Business
Article on IT, ERP
Indians! Wake up to Quality!
My Slide Presentations

and many more .....



Send feedback!
Sign My Guestbook


View My Guestbook



Prem Kamble on YouTube
Prem Kamble on Slideshare
Prem Kamble on LinkedIn
Prem Kamble on Facebook

(Some images courtesy Freefoto.com)