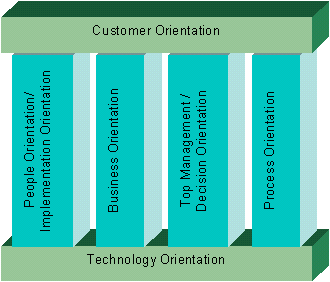 Customer Orientation.
My IT and Communication Strategy is primarily customer oriented and based on the pillars of Business orientation, Top Management/ Decision Orientation, People orientation and Process Orientation. Technology is off course the foundation. It is the driving force; it is the means and not the end. The end objective is customer satisfaction.
My strategy identifies Customers of two types:
- End customers of the company
- Customers of IT department (Immediate Customers) - users of IT.
The strategy is focused on both types of customers - the immediate customer and the overall customer.
Technology is an enabler to satisfy some basic customer needs and to provide innovative solutions to customer needs. Businesses get an edge based on how innovatively technology is used, how much the customer needs are anticipated, proactively considered, and technology-enabled solutions offered before the competition.
Business Orientation
My strategy keeps in mind that technology is for business and not technology for technology sake. The business objective of all computerization is not lost sight of.
The value of all IT efforts is assessed in terms of business benefits.
Top Management Orientation/ Decision Orientation
My IT Strategy provides useful information for top management to make decisions on business strategies and options. It is not focused on routine work reduction.
People Orientation and Implementation Orientation
Most IT professionals ignore the People aspect of IT. Most implementations fail because of people issues. My strategy puts strong focus on people - people behavior, people psychology, psychology of change:
- What is it that people resist,
- What is it that they accept,
- What type of people attitudes are involved which affect implementation,
- What type of people are the leaders of change and how to use them to enable change.
- How to overcome the negative impact of slow changers and change impeders.
Focus is on making software work for people (implementation). My strategy emphasizes, "If the Software is not used by people it is meant for, it is of zero value".
Process Orientation/ Re-engineering Processes
Several implementations fail because the process issues were not given due importance, because the processes were automated as they were without giving any thought to re-engineer them for the automation. My strategy emphasizes the study of manual process, conceptualization of optimal automated process, and then implementation of the automated processes.
Technology Orientation has to be with a lot of caution. There is a tendency for technical specialists to get lost in technicalities. Technology interests them a lot and they tend to get swept into technical details, in perfecting technology rather than being more practical and using simple technology for business benefit. My strategy has a Technology focus which does not supersede business, a technology focus which does not lose sight of business objective.
Related Readings:
The Best and Worst CEO for Computerization
Key Success Factors - Delivering IT Projects on Time
Converting a Bench to Centre of Excellence
Managers Don't Need to Know IT, They Need to Know Behavioral IT
Steering a Failed ERP Implementation Back on Track
Also See: