How to Create and Display Karaoke synchronized lyrics in your mp4 Player
You need to create an .lrc file and your mp4 player should support lyrics.
.lrc file is a simple text file as shown below. In the example below, the first line is a tag for title, and subsequent lines are synchronized lyrics. There can be more tags for singer, composer, etc. The numbers before the lyrics indicate the starting time in [minutes:seconds]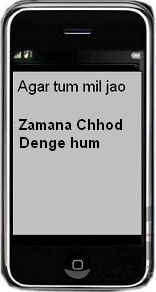 [ti:Agar tum mil jao]
[00:42.41]Agar tum mil jao
[00:45.42]Zamana chhod denge hum
[00:54.54] Agar tum mil jao
[00:57.56] Zamana chhod denge hum
[01:00.76] Agar tum mil jao
[01:03.57] Zamana chhod denge hum
[01:06.82]Tumhe paa kar zamane bhar se rishta tod denge hum
[01:12.88] Agar tum mil jao
[01:15.89] Zamana chhod denge hum

In this example shown above, lyrics will not be synchronized word by word, but the full line will be displayed as per the time stamps. This should be good enough for an experienced singer.

Rename the .lrc file with the same name as your mp3 file (for example xyz.mp3 lyrics file should have name as xyz.lrc). Copy the .lrc file into your mp4 player in the same folder as your song.

When the mp4 player finds the corresponding lyrics file (.lrc file) for the song, the small red ball on your mp4 screen will turn green indicating that the song has lyrics.

To activate synchronized lyrics display on mp4 is a bit tricky. In most mp4 players, you have to press the menu button and keep it pressed for a short time.

Please Write to Me for a detailed procedure.

Please see my list of Hindi Karaoke and list of My Favorite Songs.